Wedding DJ Services Cardiff & South Wales
---
DJs,LED Dance Floors,Sound Systems and Lighting
We provide a full wedding service including DJs, Dance Floors, Love Letters, Sound Systems, Lighting and special effects.We cover Cardiff and South Wales.Every wedding is different so if you would like to discus your vision for your wedding day then please do not hesitate to contact us.
On your wedding day we will:
•Carefully follow all your instructions.
•Provide all the music, announcements and events that you require.
•Unobtrusively work closely with your wedding venue to make sure everything runs smoothly.
•Allow you to relax and enjoy your wedding.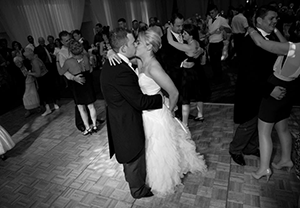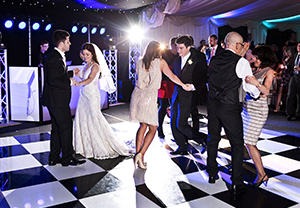 ---
Have you heard about our additional Services
There was a time when our wedding clients only booked us to entertain the guests during the evening reception.
These days its far more common for us to provide a full day service which includes music for the ceremony, Backdrops,then moving into the night time celebrations we provide Dance Floors, Backdrops and LOVE letters.
---
Speak Up,I can't hear you
One of the the most overlooked aspects of many a wedding reception is the importance of providing a good PA system suitable for speeches. Many of us have a deep fear of public speaking and even for an accomplished orator its doubly difficult when you need to raise your voice in order to command the attention of the audience. In these situations the speaker will quickly develop a dry mouth, panic and then inevitably rush to get the ordeal over-with as soon as possible.
As part of our wedding services we provide sound re-enforcement systems to make sure every speech can be comfortably heard regardless of the size of the venue.
---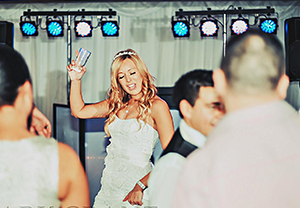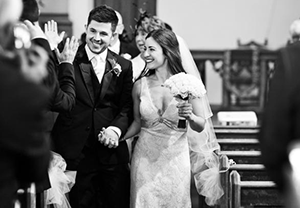 ---
Wedding Packages and Prices
DJ Standard Package
Music Played between 7pm and midnight
Sound system for up-to 120 guests
LED Mirror Balls
DJ Booth
8 x LED spots
Music of your choice
Prices from £280
Day Time Sound System
Sound system for up to 200 guests
Radio Microphone
Background music
Prices from £220
Evening Ultimate Package
16 x 16 LED Dance Floor
Music Played between 7pm and midnight
Sound system for up to 250 guests
LED Mirror Balls
DJ Booth
8 x LED spots
4 x Moving Head Lights
6 x Room Up-Lighters
Music of your choice
Prices from £980
These are just a few of our most popular packages,we also provide bespoke packages to suite your own unique requirements.
For a quotation either Telephone 01443 205417 or if you prefer you can E:mail us your requirements using our Quick QuoteClick for a Quote

Insurance certificates and our Booking/Play-list forms can be downloaded via the Download section.